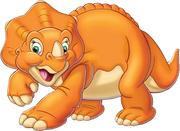 Cera is one of the main characters in The Land Before Time. She is 
Daddy Topps
 and an unnamed female threehorn's daughter, Tria's step-daughter and Tricia's paternal half-sister.
Although Cera is one of the protagonists of the franchise, she was an antagonist in the original film, but she later reforms in the rest of the franchise.
She was voiced by Candace Hutson and now she is currently voiced by Anndi McAfee.
In the original film, Cera had unnamed sisters however it is unknown what happened to them since they, along with Cera's Mother, were never seen again.
On the offical Land Before Time website, Cera is called "Sweet but Strong-willed Cera" or "Strong-willed Cera".
Despite being a kid, Cera could be a teenager.