Click To Help Maleficent

"Listen well, all of you!", "Hun,"
is nothing more than an insignificant stub.
It is in desperate need of more content.
So says Maleficent:
the Mistress of All Evil.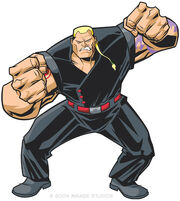 Hun is the secondary antagonist of the Teenage Mutant Ninja Turtles TV series. He is one of the Utrom Shredder's henchmen and the leader of the Purple Dragons.